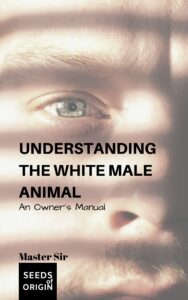 The follow-up to Seeds of Origin's #1 seller, WHITE MALE ANIMAL INVENTORY, is back.  UNDERSTANDING THE WHITE MALE ANIMAL: An Owner's Manual guides Black Authority figures who control or aspire to dominate submissive white male animals through the basics of ownership and training.  Seeds of Origin and Master Sir have created an honest and straightforward textbook that delivers information, understanding, techniques, and enlightenment based on the tenets of Seeds of Origin.
Some consider the world of white male animals and Black Superiority as "raceplay."  In contrast, others see it as a lifestyle.  Seeds of Origin teaches the principles of Black Authority over white males as the return of the original natural order.
While written from the Black Male authority perspective, this manual also serves as a reliable guide for white male animals and Black Female owners.  Both Asian, Hispanic, and Middle Eastern authorities and animals will find this a helpful guide as well.  Recommended reading for Curious-Minded, Entry-Level, Intermediate, and well-practiced Owner/animal Classes.
Original Publication Date: October 12, 2020
Page Count: 110
Format: PDF
Refund Policy: No refund once a download is complete.