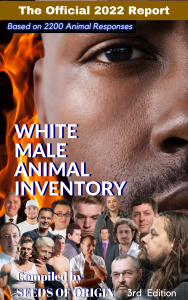 WHITE MALE ANIMAL INVENTORY — The Official 2022 Report (3rd Edition)
The first edition was previously a top ten seller at Amazon, peaking at number one. The second edition was banned from Amazon weeks after publication. Now exclusively through Seeds of Origins.com, the third edition includes responses from more than 2,200 participants from thirty countries.
Responses from white, middle-eastern, Asian, and non-African descent Hispanic animals are all tallied for the consideration of Black Authorities.
While this is not a scientific survey, it does take an intimate look at these animals' thoughts, inclinations, and motivations. Black Authorities can observe and study this data to enhance their manipulation, exploitation, and general knowledge of the animals.
You can still participate in The 2022 Census until November 21, 2021. Black Authorities and other non-white authoritative Men are welcome to participate in the Authority portion of the census.
Deadline to submit your 2022 Inventory Form: November 21, 2021.
Limited Offer
Expires January 5, 2022